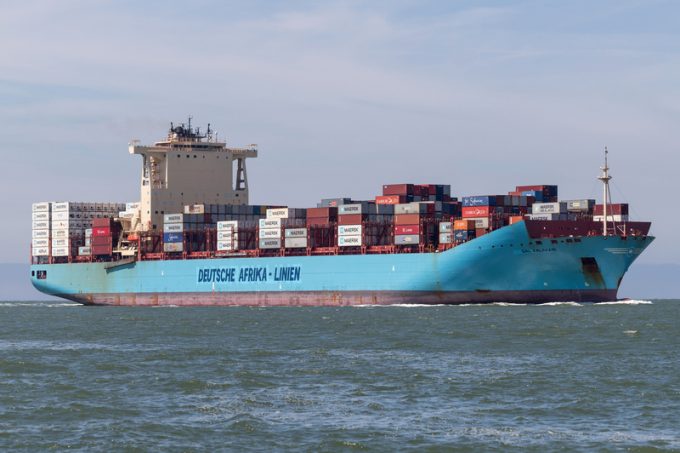 P
Hapag-Lloyd today reported a net profit of $10.75bn for 2021, which was accompanied by news that it will acquire the liner business of compatriot Africa trade specialist Deutsche Afrika-Linien (DAL).
The acquisition of the DAL brand will strengthen Hapag-Lloyd's footprint in South Africa and follows its purchase of niche West African trade carrier NileDutch last year.
The iconic 130-year-old DAL employs over 150 people with own offices in Germany and South Africa, owns one 6,589 teu ship, the 11-year-old post-panamax DAL Kalahari (above), and has a fleet of 18,000 containers.
The ship is currently deployed between North Europe and South Africa as part of a joint service with Maersk (SAECS) and ONE.
According to eeSea data, DAL controls 10% of the VSA's capacity – nine vessels operate on the loop, which calls at London Gateway, Rotterdam and Bremerhaven in North Europe and Cape Town and Durban in South Africa.
Speaking during the company's annual report press conference this morning, CEO Rolf Habben Jansen said that the "growth potential" of the African market was the driver for the two acquisitions.
"Africa remains an important strategic growth market," said Mr Habben Jansen, "DAL is a valuable addition allowing us to offer our customers a better network and additional port coverage in this region."
Explaining the decision to sell DAL, the Hamburg-based Essberger family-owned firm said that it saw "risks for the future in the container shipping sector".
It said that it was "increasingly coming under pressure from market-dominating mega-carriers.
"The significant increase in consolidation within container shipping in recent years has irrevocably changed the industry and the economic framework conditions.
"With the increasing challenges in container shipping, as well as in environmental and climate protection, we are facing dependencies and cost disadvantages that we will no longer be able to compensate for in the long-term in the South Africa trade," said a statement.
Meanwhile, Hapag-Lloyd's 10-fold increase in net profit for 2021, compared to the previous year, was achieved from flat liftings of 11.9m teu as revenue soared by 80% to $26.4bn.
The final quarter of 2021 saw the carrier's average rate reach $2,577 per teu with that trend continuing into Q1 and Q2 of this year as higher contract rates kick in.
However, soaring bunker and charter hire costs are likely to wipe out some of the rate increase benefits from the bottom line.
Mr Habben Jansen said that most of the carrier's contracts included a provision for calculating fuel surcharges, but he confirmed that Hapag-Lloyd would not be seeking any form of emergency BAF "as we don't think it is right".
Notwithstanding that, Mr Habben Jansen said he "hoped for a normalisation of rates in the second half of the year", the outlook for full-year profits is still expected to be on a par with 2021 with an EBIT of $10-12bn.
Refreshingly, Mr Habben Jansen said that in addition to ordering a further 300,000 teu of equipment and having a vessel orderbook of 270,000 teu of capacity, the company will look to pump more money into the development of its people, having taken on around 1,000 new hires in the last 12 months.
He said that the extra staff were mainly being employed to boost its customer services departments "to help us deal with all the queries that we get".
Mr Habben Jansen said that the company would respond to the letter received last week from the chairs of two US congressional oversight panels, which was also sent to Maersk and CMA CGM, expressing their concern that it may have engaged in "predatory practices" against small and medium-sized shippers during the pandemic.
The carriers were given two weeks to respond with details of rate increases applied since January 2020 for both spot and contract business.
"That's perfectly fine and justified," said Mr Habben Jansen, "if I were in the shoes of the regulators, I would be asking the same questions."
Source: theloadstar.com